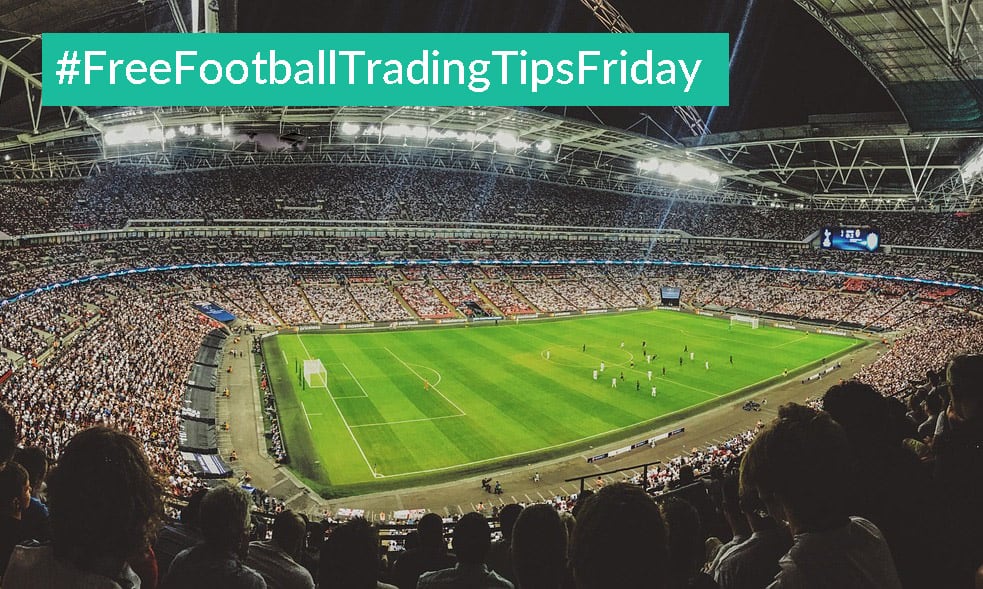 Free Football Trading Tips Friday
#FreeFootballTradingTipsFriday is a weekly preview of our Premium Football Trading Tips. Please visit that link, if you wish to see more information about the systems that we use, full results histories and more information.
Please note that the odds are for reference purposes only and you can learn more about them when you visit each system's description page.
How to play those tips?
There are many different ways you can approach these trading selections. They can be traded live on betting exchanges or in-play betting bookmakers platforms. You will have a choice of hedging your trades (cashing out) or letting the trades run (leaving as bets). It's a personal choice and preference. We don't post exact profit/loss figures for our tips, as these depend on odds, liquidity and other factors.
Further Research
Our football trading selections are calculated by our smart sports stats algorithms and are based on very strong statistics and trends. Please be advised that better results can be achieved with further analysis applied. One of the most common factors to look for are:
team's morale
team's news
motivation
weather conditions
Tips: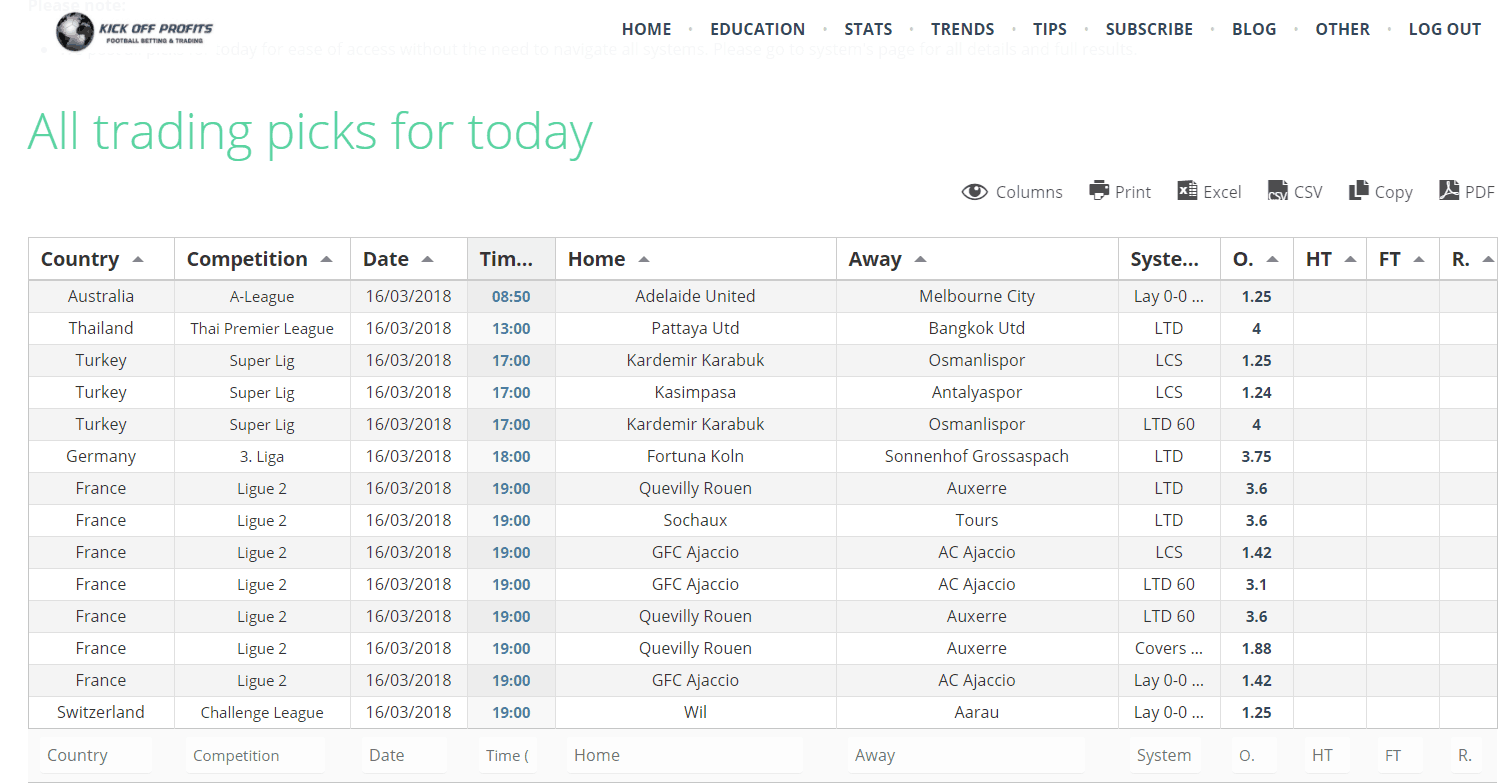 Results summary:
Trading Systems - Full Results Summary
| id | System | lastrefresh | Picks | Wins | SR % |
| --- | --- | --- | --- | --- | --- |
| 13 | Lay The Draw | 1,558,507,321 | 4085 | 3030 | 74.17% |
| 14 | LTD at 60th min | 1,558,507,323 | 1139 | 737 | 64.71% |
| 15 | Lay Current Score at HT | 1,558,507,326 | 4606 | 3557 | 77.23% |
| 16 | Clever Score | 1,558,507,327 | 439 | 291 | 66.29% |
| 17 | Covers 2.5 | 1,558,507,331 | 350 | 248 | 70.86% |
| 18 | Lay 0-0 HT score | 1,558,507,332 | 1055 | 664 | 62.94% |
Trading Systems - Last 7 days Results
| id | System | lastrefresh | Picks | Wins | SR % |
| --- | --- | --- | --- | --- | --- |
| 1 | Lay The Draw | 1,558,507,441 | 37 | 28 | 75.68% |
| 2 | LTD at 60th min | 1,558,507,443 | 10 | 3 | 30.00% |
| 3 | Lay Current Score at HT | 1,558,507,445 | 30 | 20 | 66.67% |
| 4 | Clever Score | 1,558,507,447 | 4 | 3 | 75.00% |
| 5 | Covers 2.5 | 1,558,507,451 | 2 | 1 | 50.00% |
| 6 | Lay 0-0 HT score | 1,558,507,453 | 8 | 6 | 75.00% |