Every now and again, a football match and its score is overshadowed by controversial referee decisions, that are the main talking point and make the headlines of newspapers. Controversial sending offs, penalties, goals and other game changing decisions, can not only lose you money, but also leave you in total disgust of the modern game. Does referee bias exist? How much of the referee mistakes is up to human error? How can we prevent losing money on some occasions and how to spot great betting and trading opportunities by using the referees angle? I will try to give you some good food for thought and give some answers to the above questions.
Have you ever wondered why there is no place for video technology such as replays in football as it's used in other sports such as rugby or tennis? Why did it take so long for the FIFA officials to decide about the implementation of goal line technology to the modern game? Or what about the Ref Link system that has been successfully deployed in rugby, allowing fans an insight to discussions between players and officials during matches?
In recent years, the referees have become one of the biggest problems that FIFA chooses not to acknowledge. While some of the referee decisions don't have much effect on the game, some of them have swung tournament outcomes and league title and relegation races.
How many more times will we see clubs and fans suffer hurt and injustice simply because of the mistake of one man? Well, most likely, plenty more times. Sadly, it doesn't look like someone wants to do anything towards reducing the number of errors in refereeing. With this in mind, we can either believe and accept that the controversial decisions are due to human error, or dig deeper and maybe find that in the end they may not be as unintentional as claimed to be.
Home bias
There is plenty of research out there, looking at referees and bias in football matches. It has been proved that that referees tend to avoid making calls against the home team as a way of shielding themselves from the extra stress levels that come with antagonising the crowd. Home teams get fewer yellow and red cards than away teams, however it will also depend on the strength of the teams. Generally, the greater the superiority of the home team, the lower their chances of a yellow card and the higher the chances of the away team getting one. But there are also some other forms of bias such as tending to allow more added time in matches in which the home team is losing. Home teams are also more likely to be the beneficiaries of disputable decisions on penalties and goals.
The authors of 'The 12th man?: refereeing bias in English and German soccer' found an interesting correlation between the home advantage and a running track in the stadium. They claim, that the influence of a running track around the pitch is striking. Home teams are more likely to get a yellow card where there is a track, and marginally more likely to get a red. Two effects are in play here: the crowd is further from the play, so is less intimidating to the referee but also less able to rouse its team. So that suggests, that the greater distance from the crowd allows referees to operate under less intimidation, and show less bias towards the home team. I have personally never taken into consideration the importance of a running track when analysing matches. There must have been a good reason though, why some many teams moved to stadiums without an athletics track. So the conclusion is that referees are biased in favour of home teams, however much they may try to officiate fairly. But I'm sure that you could give me plenty of recent examples, when that just wouldn't be true…
Human factor
If you think about football refereeing as a job, it seems to be a very lonely job. Often being abused verbally and even at times physically by players, managers and fans. At the end of the day, a referee is a human being who has feelings, likes and dislikes, and we may not know what his background is. The referee should always remain fair and unbiased. But is it safe to say, that even they will have their most and least favourite clubs and stadiums, that they enjoy or hate coming back to? Probably. According to Andre Marriner, 38, who joined the elite list of Premier League referees in 2004, the rewards are manifest. 'For me there's nothing better than being a referee,' he says. 'I was at Everton the other day, one of my favourite grounds, and the atmosphere was amazing. Running out of the tunnel, the sound of the crowd, the compactness of it all, it makes the hairs stand up on the back of the neck just thinking about it. There is nowhere else I feel more alive.'
The above quote was taken from one of the interviews with professional referees, which were supposed to promote this choice of career. After reading this statement, I just had to check the Premier League stats for Everton when they played under Andre Marriner.
Everton
Referee Andre Marriner
Ref Stats (Av. YC, RC & Penalty) 3.23 & 0.17 & 0.13
Record (W, D, L) 21 (9, 8, 4)
Penalty & Red Card Favour 1 & 0
Av. YC (For and opposition) 1.66 & 2.09
So, Everton lost only 4 out of their 21 matches under Marriner. 15 out of those 21 matches took place at Goodison Park (a bit many you would think) and Everton lost only 2 of those games (against Newcastle and Blackburn). But nothing interesting in terms of penalty and red card favour. However, it's noticeable that the Toffees were on average booked less often than their opposition. But looking at my stats, Mr Marriner is the 'luckiest' match official for the team from the blue half of Liverpool. Looking at Everton and other refs' stats, there are some match officials who aren't very 'lucky' for the Toffees. For example Martin Atkinson (19 Premier League matches and only 4 wins for Everton) or Mike Jones (1 win in 10 matches). Whether it's just a fluke or a strong trend, it can't be ignored when it comes to betting or trading.
One of my close friends is an amateur referee, who is in charge of local football league matches. It was interesting to hear from him, that he would always want the teams and players from his home town and surrounding areas, to do well. Also, with this in mind, when officiating matches, he would subconsciously give some decisions in favour of a team that he liked more.
Amateur referees are being paid around £20 per game, semi-pro match officials getting around £80 per match. A professional top league referee can earn above £40,000 per annum + extra bonuses. But it can be even more when officiating international competition matches. The average wage of a footballer in the Premier League though, is around £35,000 a week. Financial reasons can sometimes be enough to convince a referee to be biased towards a team, as has been the case in many match fixing scandals.
Mistakes
Everyone makes them, so we can't expect referees to be right at all the time. Referee mistakes come in all shapes and sizes, sometimes it's an egregious sending off, sometimes it's an unexplainable whistle (often the ref won't even explain it), and sometimes it's just a call that the referee doesn't make. When researching this topic more, I found one article in The Guardian by David Lacey, who defended Martin Atkinson after his very shocking performance at Goodison Park (controversial decisions against Everton), by claiming that 'mistakes by referees are honest ones and don't need to be punished'. Well, I have already written about Mr Atkinson and his record for Everton, but would also like to expose some other interesting stats. This time it will be his record for Chelsea (18 EPL matches: 14 wins, 3 draws and 1 loss. Also +5 in penalty favour for the London club). This doesn't include the famous ghost goal for Chelsea against Spurs in the semi-final of the FA Cup last season and not sending off Peter Cech for the foul in penalty area, that was a given as a penalty to Spurs. Another couple of big calls went Chelsea's way against Arsenal earlier on this season, when Chelsea were awarded a penalty and not giving a clear foul for Arsenal in the build up to Chelsea's goal. Those sorts of records, which aren't lacking in the Premier League and in many other European Leagues, and the decisions that we see every week, make it hard to believe that those referee mistakes are unintentional. There are teams in the Premier League that have never won when certain referees were in charge. Similarly, there are teams that have never lost under some referees.
Another thing often suggested is that referees are biased towards big teams.
The former English top referee Graham Pool claims that there is no truth in referees favouring big teams. You probably also have heard before, that penalty decisions even themselves out over the season (or maybe it would be safer to say that over a few seasons?). Well, according to match officials, managers and pundits. In the real world, it looks a bit different…
This table presents the total numbers of penalties awarded (for) and conceded (against), as well as their differences from the last 10 Premier League seasons (from 2002/2003 up to 2012/2013).
Team For Against +/-
1 Manchester United 62 26 36
2 Chelsea 62 30 32
3 Liverpool 60 39 21
4 Arsenal 59 42 17
5 Manchester City 53 42 11
6 Everton 40 35 5
7 QPR 5 3 2 1
8 Fulham 46 46 0
9 West Ham United 34 34 0
10 Newcastle United 45 46 -1
11 Swansea City 6 7 -1
12 Tottenham Hotspur 44 46 -2
13 Southampton 12 15 -3
14 Reading 10 15 -5
15 Stoke City 20 26 -6
16 Aston Villa 52 61 -9
17 Norwich City 3 12 -9
18 Sunderland 26 41 -15
19 West Bromwich 22 39 -17
20 Wigan Athletic 28 45 -17
The penalty decisions even themselves up for only two clubs: Fulham and West Ham. But we could also say that it's the case for Newcastle and Spurs.
At the top of the table, as you probably would have known anyway, are Man United with 36 penalties in favour! Chelsea, Liverpool and Arsenal have also very positive penalty favours.
And just don't mention, that penalty decisions even themselves out, to Wigan, West Brom and Sunderland supporters.
But why are we being told that the penalty decisions cancel themselves out then?
By collecting the referee stats, we can quickly identify teams that have positive and negative penalty favour under each of the referees. I can also confirm that Man Utd have +8 penalty favour from Howard Webb. It gets more interesting when you find a team that has very positive or negative penalty and red card favour, as you will see in the example below…
Using ref stats for Betting/Trading
I have been using the referee stats in my analysis for trading for a few months now. Every week, there have been some interesting stats that can provide good betting and trading opportunities. They also help to explain some controversial decisions. I will give you a good example of how useful can it be:
Nacional vs Benfica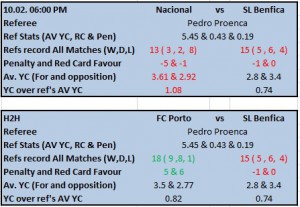 This ref isn't the best for Nacional (who are a weak team anyway), however for Benfica, who win the majority of their matches, the winning rate of 33% with this ref is ridiculous.
What about H2H comparison for this referee and the two biggest rivals (Benfica and Porto) who shared the first place in the table at that time? At least we know, which of the top two in Portugal is prefereed by Mr Proenca.
What about that game though, as Benfica were still very fancied to get all three points against weak Nacional?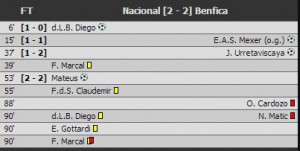 I was trading and watching that game and the screen with the results and bookings speaks for itself. There were two ridiculous sendings off for Benfica in the final minutes of that match, which meant that those two players were suspended for the next matches. This sort of decision can be crucial to the title race!
Those sorts of stats can be used for backing or laying teams to win, backing booking points (team with more bookings, over/under cards) or even betting on sending offs and penalties.
When it comes to trading, you can often find some teams with good refs stats that are losing and decide to lay their opponents. That knowledge may as well be helpful to decide when not to lay a winning team. You can find plenty more examples on my website.
There will be matches that the referee stats will prove to be wrong, as some favourable decisions will go the other way. These stats can help to spot certain patterns, however each football match should be treated and analyzed individually and referee angle is only one of the factors.
Conclusion
As long as there aren't some major changes in order to minimize referee mistakes, there will still be plenty of matches that will be ruined or predetermined by controversial referee decisions. In most cases we probably will never find out whether a bad mistake was unintentional or deliberate. Referee stats are another factor to consider when analyzing a football match, which may shed some light on certain issues and be especially helpful in betting and trading.
P.S. Sadly we are no longer able to access the Referee stats, but will look into other possibilities to provide them in the future.